If you have received the following error message: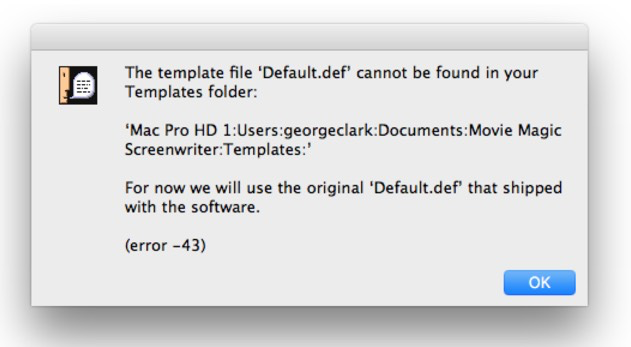 ...here are some solutions and a several possible causes.
SOLUTIONS
Solution #1
A solution is to open a Screenplay document that has the format the way you like it, and select the menu command FORMAT > Make Default for All New Documents. You'll get an alert that looks like this: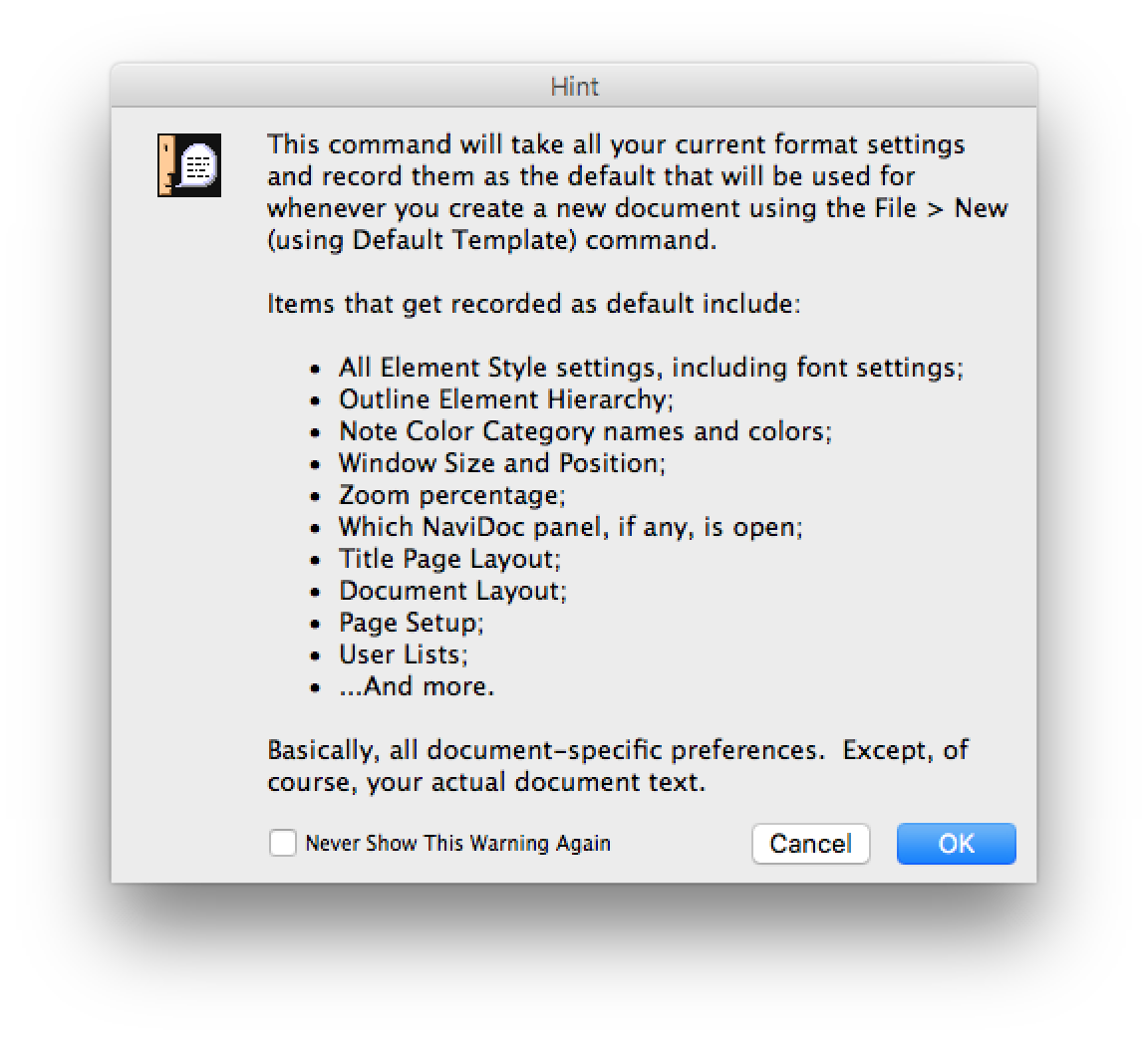 After you press "OK", try quitting out of the Screenwriter program and starting up again -- you should NOT get the original warning anymore.
Solution #2
Open a document in Screenwriter that has the default settings you like and do the following:
Use the Format>Element Styles menu command
Click on the "Save as Default for all new documents"
Press OK to apply the change
POSSIBLE CAUSES
There are a few possibilities:
1) The folder, ~/Documents/Movie Magic Screenwriter/Templates was never installed. (~/Documents means the Documents folder in YOUR HOME FOLDER). This can be due to permissions issue (similar to #3, below).
2) You are using the macOS iCloud Drive feature, which has MOVED the location of the (~/Documents/Movie Magic Screenwriter folder). Screenwriter has created a "new" folder, however it doesn't have any of its Templates. The solution is that you can use the Finder to COPY the entire Templates folder from /Applications/Screenwriter 6.5 into your ~/Documents/Movie Magic Screenwriter folder.
3) If you are NOT using iCloud Drive, then the most likely problem is that the Documents/Movie Magic Screenwriter/Templates folder does not have read/write permissions. To correct this:
Close Screenwriter if it is open

Right-click on the Documents/Movie Magic Screenwriter folder and select Get Info


In the bottom left corner of the window, click on the lock to allow unlock your permissions.

A window will pop up and ask you for your computer's password to allow you to unlock.

In the Sharing & Permissions section toward the bottom of the Get Info window, set the user for the 'owner' (Me) folder to Read & Write. (It is okay for you to set the others to Read & Write if you're the only one on the computer, e.g. it is your laptop.)

Select the owner (Me) user

Click on the settings icon on the bottom left of the window to reveal the dropdown list and select "Apply to enclosed items…"

Click on the lock to relock your permissions.

Close the Get Info window and you should be set to go.