Screen sharing is a way for us to see exactly what you see on your screen.  Both you and our support technician will be able to control your mouse pointer, press keys, and if you have a microphone (most Macs), we can even speak with each other over the same TeamViewer QuickSupport connection!
Here is a brief overview of the steps involved:
Try to follow these steps at least 20 minutes prior to our appointed time
Download the QuickSupport app from https://get.teamviewer.com/writebrothers
Launch the downloaded QuickSupport app (usually in your Downloads folder)
Send us the 9 or 10-digit ID via email.  If the password is anything other than ****, send that too.  If you do not send us the QuickSupport ID, we cannot connect to you!
Leave the QuickSupport app running -- otherwise, we cannot connect!
Turn up your speaker volume
WAIT for us to connect (usually at the appointed time)
You will hear us but we won't hear you until you unmute the mic. We'll tell you how
Below is a step-by-step description of exactly what to do to prepare for the session.
Only follow these instructions if we have first set up an appointment to do screen sharing:
Use this link to download the Write Brothers QuickSupport app that will allow us to do Screen Sharing with you using TeamViewer:
https://get.teamviewer.com/writebrothers
After you click on the link, your browser will open and you will be taken to a web page, where your download should automatically begin: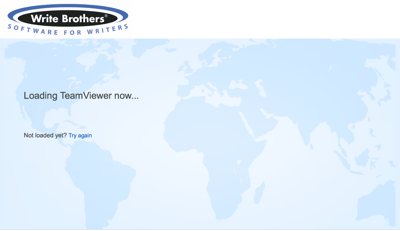 A .zip file named TeamViewerQS.zip will be downloaded.
Depending on your browser and your security settings, you may be asked to open or save the downloaded file. Opening the file will usually decompress the zip file: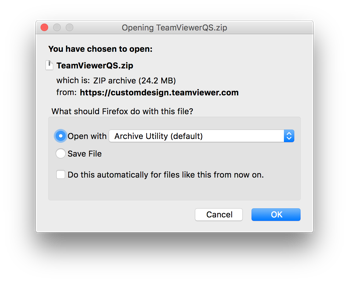 Your Downloads folder will have the decompressed app file called:
"TeamViewer QuickSupport.app"
Either your browser will ask to run that downloaded file, or you should run (double-click) it yourself:

You may get an alert asking if it's OK to open the app: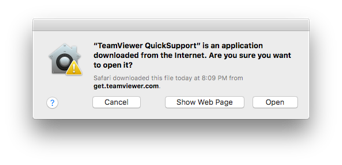 Press Open.
The Write Brothers QuickSupport program will be displayed: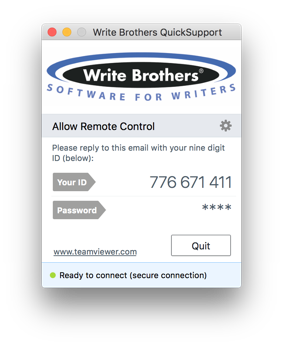 Please respond to this email with the nine numbers listed in the "Your ID" field (NOT the ID from the above screen shot!) NOTE: if you cannot change the "Password" field (I.E. it is four asterisks), then you will not need to send the password information. If you CAN read the password, please send it, too.
Leave the QuickSupport app running!  We have already arranged a time when we will connect to you. When we do you'll see your mouse pointer moving on your screen (very creepy).  If you have a built-in microphone (usually all Macs do) then we will connect to you via your built-in audio.  If you have no built-in audio, we will make arrangements to connect by phone.