NOTE:  The watermark does NOT show when you use the print Preview option.
The watermark feature requires three items in order to work:
the text or image for the watermark
a distribution list
a document serial number (not your program serial number)
WINDOWS USERS:  Click on the File > Print > Setup (upper left corner) > Watermark menu command.
MAC USERS: Click on the Production > Watermark Setup menu command.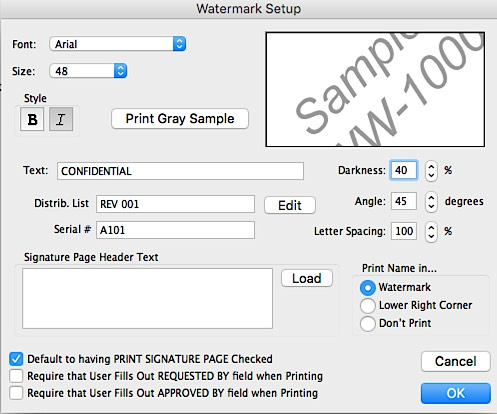 TEXT / IMAGE
Type in what you want the watermark to say, e.g., "Private Copy" or "Not for Distribution", "Confidential," etc. or choose a Bitmap image (.BMP) for the watermark (Windows only).
DISTRIBUTION LIST
In the distribution list field, type in title for the list itself (not a person's name).
Then, click the Edit button next to the field. In the window that opens, type in the names of the to which the script will be distributed (one name per line).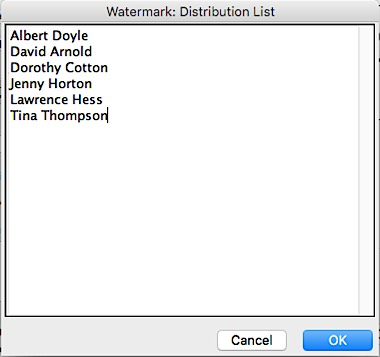 THERE MUST BE AT LEAST ONE NAME IN THIS WINDOW OR YOU WILL NOT HAVE A WATERMARK.  Press OK to save the edits to the names in the distribution list.
SERIAL NUMBER
Create a serial number for the document, so that each copy of the script can be serialized. The serial number is arbitrary but must end in a number or letter. We recommended something like the initials of the script or author and a number.
Example:
Script title - "Blue Harvest"
Watermark serial number - BH001
Author - Joe Thompson
Watermark serial number - JT2011-A
The program will automatically increment the serial number for each copy that is distributed, i.e., BH001, BH002, etc. or JT2011-A, JT-2011B, etc.
Choose any other options on that window, such as watermark angle, darkness, font, etc., and click OK. You can now print or print to PDF using watermarks.
PRINTING THE WATERMARK
Use the File>Print menu command to open the print options window
Select the report parameters you want
If you do NOT want the watermark to show up, check the "Print w/o Watermarks" checkbox, otherwise the watermark will be added to everything you print
Press the OK (Mac) or PRINT (Windows) button in the Print window -- do NOT press the preview button because watermarks do not show up in print preview
The Watermark window options will show up for you to make any last minute tweaks
Press OK to bring up the print window
To send to your printer, press the OK (Mac) or PRINT (Windows) button
PRINTING TO PDF
FOR WINDOWS USERS
If you want to print to a PDF file instead of printing to paper, use the File>Printer Setup menu command and set your printer to a PDF print driver instead of your regular printer driver BEFORE you go to File>Print and follow the steps above for Printing the Watermark.
FOR MAC USERS
An alternative to printing (for Mac users) is to create a PDF of the document
After following the Printing the Watermark steps above, and while still in the print window (Step 7), click on the PDF popup menu located in the lower left corner of the print window

Select Save as PDF or Open PDF in Preview
If you select Open PDF in Preview, the document opens in Preview where you may see the watermark before printing
You may save the PDF or print directly from Preview is you wish