For the article on Screenwriter 6.5 compatibility with High Sierra, click here
Movie Magic Screenwriter 6.0 (v6.0.10.165) is NOT compatible with MacOS 10.13, High Sierra. 
If you try to install, you will get the following error: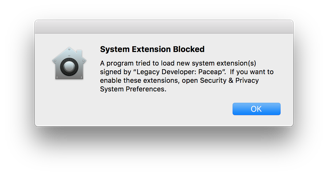 Since this is related to the license management system on version 6.0, we are unable to correct and update 6.0 to be compatible.  
NOTE that there are other incompatibilities for Screenwriter 6.0.10.165: High Sierra introduces a new filesystem, APFS, which can (and will) cause filesystem incompatibilities.  We strongly recommend you upgrade to 6.5.2.54.
We STRONGLY suggest you upgrade to Screenwriter 6.5: click here for instructions
Tag: System Extensions Blocked