Haven't upgraded to High Sierra?  Not sure if you should?  We provide another FAQ, "Should I upgrade to High Sierra yet?". 
UPDATED 10-10-17:  Linked below is the current High Sierra-compatible version, 6.5.2.54, that corrects known issues with MacOS High Sierra.  This is the exact same version that users see when Screenwriter's Check for Updates feature reports an update is available.
CLICK HERE TO DOWNLOAD THE MOST RECENT VERSION: Screenwriter 6.5.2.54
If you presently have 6.5.1.49, and you don't want to take the new release just yet, we explain the problem and how to get around it, below:
ORIGINAL FAQ DESCRIBING PROBLEM (which is FIXED in 6.5.2.54, linked above):

High Sierra (10.13) is the upcoming new version of MacOS from Apple.  The first version was released Monday, September 25th, 2017.
High Sierra has a whole new filesystem, called APFS, the Apple File System, and some of our users have reported an issue with Movie Magic Screenwriter 6.5 that may be connected to that new file system.
 
The issue shows up when saving a screenplay document.  Normally, when you save, your previously saved version of your script is preserved as a backup, placed in a special Previous Versions folder, and renamed to have a number to differentiate it from all your other previous saved versions.
 
The symptom: a small number of our users report that when saving, they get an alert that looks like this: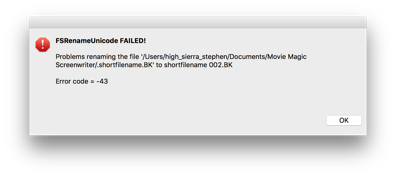 A solution (no longer recommended, now that 6.5.2.54 is available), is to go into Screenwriter's Preferences and on the FILES tab, TURN OFF (uncheck) the checkbox "Retain previous versions of documents (.BK files):


 
This will prevent the error from being displayed.
 
We have now corrected this this bug in Screenwriter 6.5.2.54.  But until you download and install that release, whether you suppress the error message or not, multiple copies of the Previous Version .BK files are NOT created.
WE DON'T RECOMMEND SCREENWRITER 6.0.10.165 ON HIGH SIERRA:  You may also attempt this fix using Screenwriter 6.0.10.165 on High Sierra -- however there may be all manner of other filesystem-related issues with a pre-6.5 release.  6.0.10.165 has NOT been tested on High Sierra.  Use at your own peril!  We strongly recommend upgrading to 6.5.2.54.
Tag:  Error code = -43, FSUnicodeRename FAILED, High Sierra

---
Last Updated Sept. 12, 2017