THE SYMPTOM: You go to launch Screenwriter, and then nothing appears to happen -- the program doesn't even open and never appears in the Task Bar!
There are several possible culprits:
1: SCREENWRITER APPEARS TO START BUT THEN THERE IS NO WINDOW OPEN

If Screenwriter has been working but now no window shows up when you run the program:
Hover over the Screenwriter icon in the Task bar. Does it show a thumbnail / flyover window, perhaps one that looks blank?
Right-click on that little thumbnail and select Maximize.
Simple as it is it may do the trick.
2: DEFAULT PRINTER IS NOT SET
Screenwriter requires the Default Printer to be set -- even if you don't have a default printer:
After Windows update I can no longer run Screenwriter

BUT I SET MY DEFAULT PRINTER!
Yes, but there is also a checkbox (in the same place you set your default printer), "Let Windows manage my default printer" -- this option should NOT be checked.

3: MY WINDOWS LAPTOP SUPPORTS TOUCH SCREEN ("TABLET MODE")
Do you have a laptop / notebook (or tablet) that supports Windows Tablet Mode? If so, you may have settings that look like this: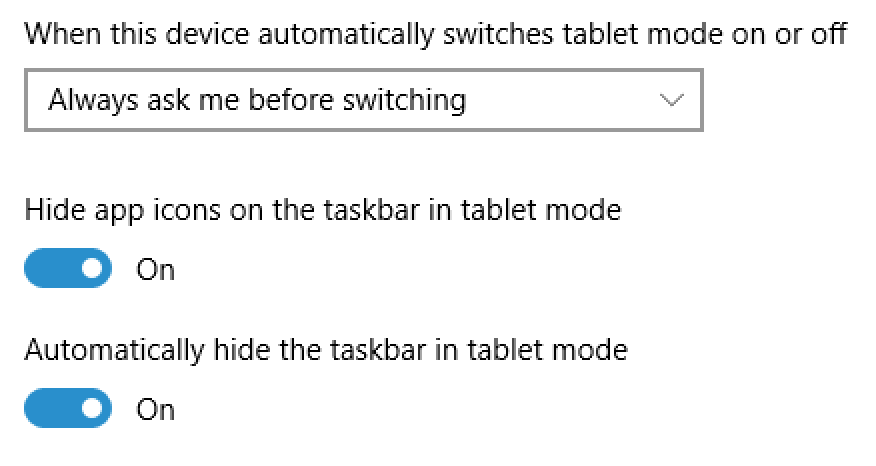 These settings can cause problems for Screenwriter, which is not designed to run in Tablet Mode. If so, you will get a blank screen and it appears Screenwriter isn't running. But, if you click slowly three times, Screenwriter will open, albeit in full screen mode. See this article for how to change these settings and eliminate this issue:
Screenwriter doesn't open on Windows running Tablet Mode

4: HAVE YOU UPDATED YOUR COMPUTER OR VERSION OF WINDOWS RECENTLY?
If you have updated your computer's hardware (or moved all your software to a new computer), or changed to a new version of Windows (typically to Windows 10), then you may need to Download and reinstall Screenwriter again:
Download and Install Screenwriter 6 for Windows
5: DEP SETTINGS PREVENTING SCREENWRITER FROM RUNNING
If the above two options aren't the cause, then the 'Data Execution Prevention' (DEP) setting in Windows is most likely causing this problem. This is a security feature that prevents some rare and extreme cases of security exploits.
Normally, 'Data Execution Prevention' (DEP) is only enabled for Windows apps. However, on some systems, this feature may have been configured for ALL applications. You can either turn it off for all programs, or make an exception for Screenwriter (see the following link):
LINK: Application does not open when launching Movie Magic Screenwriter 6 for Windows (DEP)
Here's a more detailed article about disabling Data Execution Prevention
6: I HAVE JING
There have been extremely rare reports of this issue occurring with a screenshot program called Jing. Try disabling Jing (or uninstall it) to see if that allows you to use the program.
FAQ ABOUT JING -- LINK: When I try to open Screenwriter 6 for Windows, it starts to come up and then nothing happens.
7: SECURITY APPS PREVENT LAUNCH AND/OR SAVING

If you have security apps, such as BitDefender, Norton, Kaspersky, Windows Defender, or others, make sure you add Screenwriter to their 'exclusion', 'allow', or 'white' lists. This lets the security apps know that Screenwriter has permission to launch and save files on your Windows system.