Have you been trying to contact support, but haven't received a response in several days?
Since we generally respond to support requests in hours, or one business day at the most, something is wrong, and most likely, it's one of these problems:
I sent email to support@screenplay.com but you haven't responded
You can no longer request support by sending email to support@screenplay.com.  We have a new support form ("ticket") that you need to fill out.  Please go to techsupport.screenplay.com and press on the "Request Technical Support" button.
If you sent a request to support@screenplay.com, you SHOULD have received an automatic reply explaining exactly how to use the new tech support ticket request system.  If you didn't, please check your spam / junk mail folders for email from screenplay.zendesk.com. 
I submitted a support ticket, but I received no response
1)  Did you make that submission from our NEW support site, https://techsupport.screenplay.com?  The new site looks like this: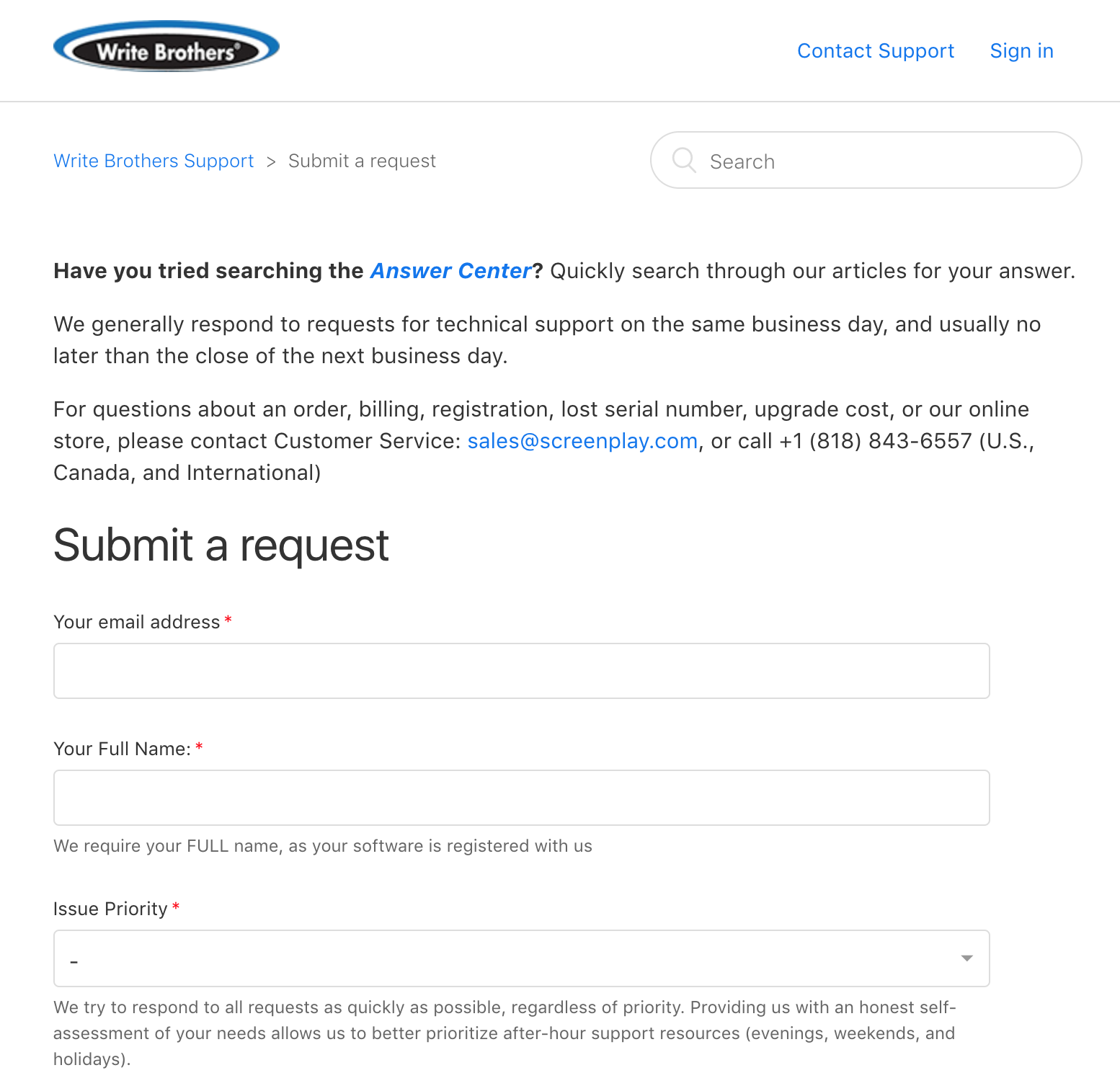 2)  Have you checked your spam / Junk Mail / Clutter folder for email from screenplay.zendesk.com?  If you don't see a response there, it is possible your email system is blocking responses from ZenDesk, which provides us with help desk support.  Please add screenplay.zendesk.com to your address book or "whitelist" both ZenDesk.com and Screenplay.com.
3)  Are you providing us with an email address you know to be good?  It may be obvious, but you might have several email addresses, some of which may not be functioning or you may not be checking.
I left a phone message for you on you tech support phone line and no one has called me back
Since September of 2016 we have been very clear that we do not receive or respond to phone messages left on our old technical support phone line.
What do I do if I still have been unable to submit a support request ticket and get a response?
In this case, if you have read and tried all of the above sections, then please email our sales staff at: sales@screenplay.com and let them know you haven't been able to reach us.