There are two very different possibilities: the first is that an anti-Malware / anti-virus program (Malwarebytes, for example) has BLOCKED the downloaded document. If you have Malwarebytes, you will need to do two different things:
1) If the problem is on Windows, select the document and choose "Properties". You should see something that looks like this: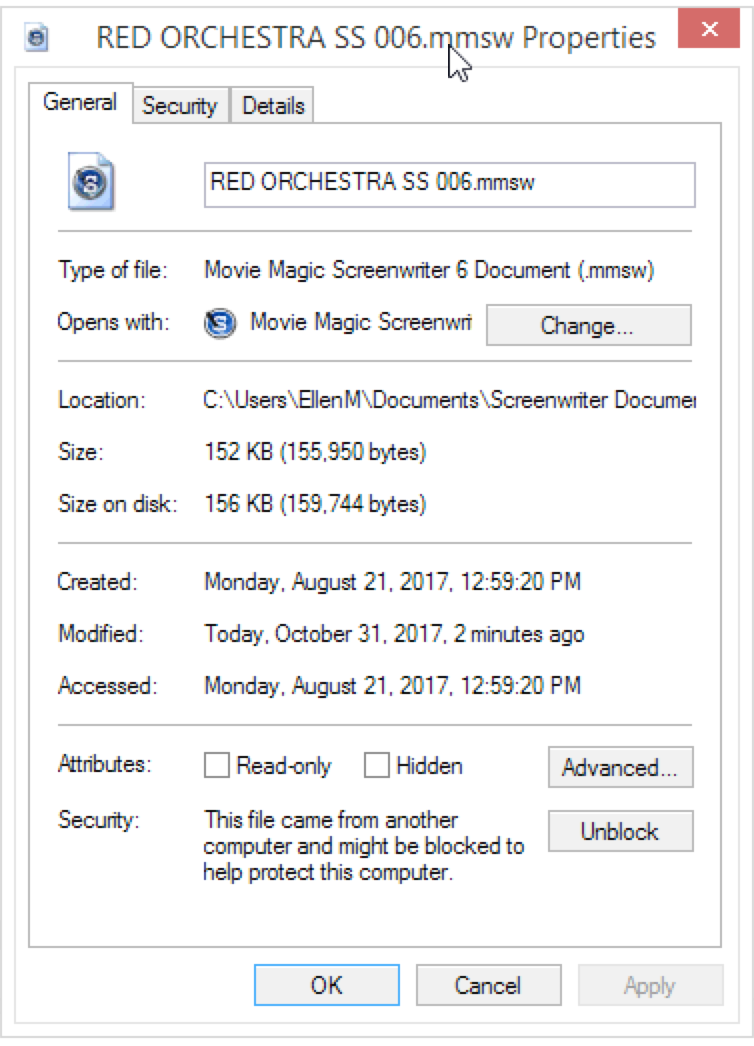 See the "Security" attribute at the bottom? Malwarebytes adds that part. See the button that says, "Unblock"? Press it, and your problem is solved!
IF YOU DON'T SEE THE SECURITY PART, try clicking on the Security Tab and make sure you have the proper permissions, which should be all that are available except "Special permissions" if the tab has that one.
2) However, each time your receive a new script document via email you will continue to have the same issue, UNLESS you tell Malwarebytes to EXCLUDE both the Screenwriter program, and also your Documents/Screenwriter Documents folder. (we don't have detailed instructions yet, but adding exclusions can be done via the MalwareBytes Options panel).
A more common problem is a side-effect of your email client. Some email clients always send documents read-only. Screenwriter doesn't set the read-only flag on the document.
HOW TO SOLVE THE PROBLEM:

1) At the other end, your recipient can change the read-only permissions.
2) YOU can proactively compress the Screenwriter document before mailing it (i.e. compressing it with ZIP). Once your partner downloads the attachment, they will need to decompress the .zip file. However, the emailed .mmsw or .mmx file will be writable.

3) Your partner can download your emailed attachment, then open YOUR read-only draft, and then immediately do a SAVE AS on their own machine as their own named draft.