This error happens when you try to run the newer version of Movie Magic Screenwriter [2022] on Windows 10, specifically if you have a 32bit ONLY version of Windows. Most versions of Windows support both 32bit and 64bit apps. You can tell what your system supports by bringing up the system "about" box.
In your Windows file Explorer, right click on "This PC", then select "Properties". You should get a window that will have something like this:

The newer version of Screenwriter has a 64bit activation app called "Activate and Register Screenwriter" and that is the program that won't run.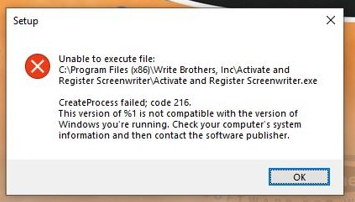 SOLUTION:
The first option is to update your version of Windows to a more current version that supports both 32bit AND 64bit apps. HOWEVER -- WARNING -- you cannot upgrade from a 32-bit version of Windows to a 64-bit version of Windows without completely ERASING your entire hard disk. You would need to first have a BACKUP of all your files!
The second option is to remove the newer version of Screenwriter 6 and install the older version. This will require a manual activation that is only provided for 32bit-only versions of Windows 10 users. Please download THIS version of Screenwriter 6 for Windows: https://techsupport.screenplay.com/hc/en-us/articles/360050948211-Download-Screenwriter-6-for-Windows-XP-Vista-7-8-and-8-1
Then, see section 16 of THIS FAQ, "Manual Activation": https://techsupport.screenplay.com/hc/en-us/articles/360031956292-Screenwriter-6-on-Windows-10-Directions-to-Download-Install-Activate