In late September 2018 Apple launched the next version of MacOS, version 10.14 "Mojave".   Screenwriter 6.5.7.65 (or greater) and Dramatica Story Expert 5.3.1 (or greater) can be installed, activated, and run on Mojave without issues.
If you are going to run either Screenwriter or Dramatica Story Expert on Mojave, it is important that you have the very latest versions of Screenwriter 6.5, version 6.5.7.65.  For Dramatica Story Expert, version 5.3.1. 
Note that neither of these versions support 10.14 Mojave's  automatic "Dark Mode"  However, with Movie Magic Screenwriter, you can simulate Dark Mode by going into Screenwriter's Preferences, select the Misc. tab, and set the On-Screen Colors to the "Use Custom Screen Colors" option: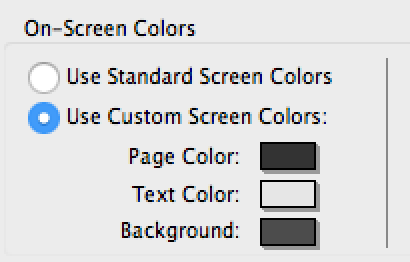 If you spot any problems you suspect are defects due to running on MacOS 10.14 Mojave, please contact our technical support department.
We are presently working on full 64-bit versions of Movie Magic Screenwriter and Dramatica Story Expert.