In late September Apple has launched the next version of MacOS, version 10.14 "Mojave".  Early indications were that Screenwriter 6.5 and Dramatica Story Expert 5.3 installed, activated, and ran without issues.
LATE BREAKING NEWS!!!  We've just corrected this bug!  This is a Release Candidate Build that you can download and install over your existing build:  
Link to download Release Candidate of Screenwriter 6.5.6, which fixes the Mojave Print crash
BELOW IS THE ORIGINAL FAQ, WITH THE ORIGINAL WORKAROUND:
However, an Apple-originated bug has been discovered when printing with Screenwriter on the 10.14 version of Mojave.  When pressing the OK button after selecting Screenwriter's print options, Screenwriter will crash.
THERE IS A TEMPORARY WORKAROUND: to avoid the crash, just press the "PREVIEW" button INSTEAD of the "OK" button: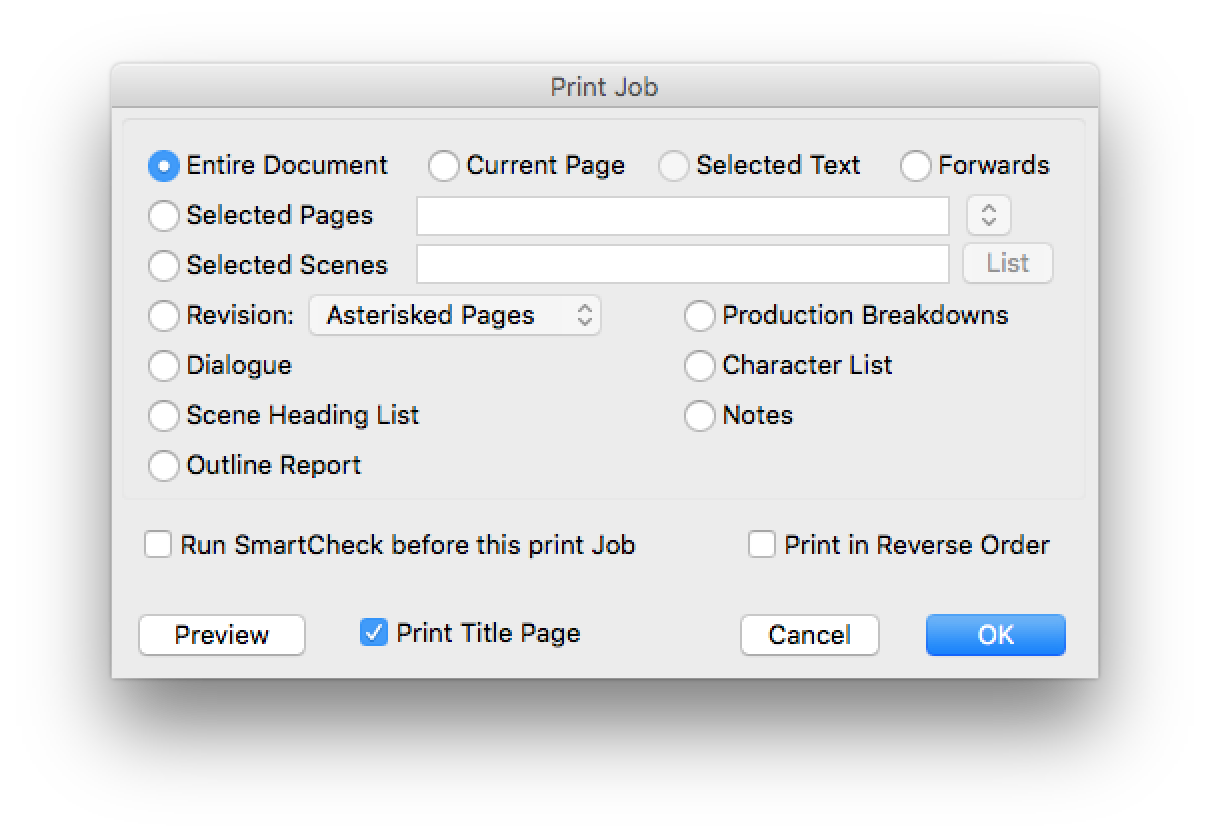 Pressing PREVIEW will generate a PDF and open it in Apple's Preview program.  From there, you can print it, or save the PDF to a file.
Apple has been made aware of the urgency of this issue.  It seems like an omission on their part, and hopefully they will escalate the issue and get it resolved.
This issue does NOT affect printing for Dramatica Story Expert.
If you are going to run either Screenwriter or Dramatica Story Expert on Mojave, it is important that you have the very latest versions of Screenwriter 6.5, version 6.5.3.59.  For Dramatica Story Expert, version 5.3.1. 
Note that neither of these versions support 10.14 Mojave's  automatic "Dark Mode"  However, with Movie Magic Screenwriter, you can simulate Dark Mode by going into Screenwriter's Preferences, select the Misc. tab, and set the On-Screen Colors to the "Use Custom Screen Colors" option: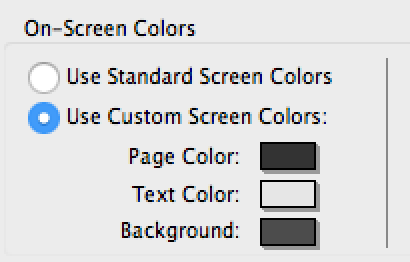 If you spot any problems you suspect are defects due to running on MacOS 10.14 Mojave, please contact our technical support department.