Pressing TAB in Screenwriter creates a new Character Name element.
The default behavior for Shift+TAB is to insert the previous speaker's name and insert that character's dialogue element.  If there is only one Character Name in the document, pressing Shift+TAB inserts that character's name (Cont'd) and moves to the following dialogue element.
Example:
Here is an inane exchange between Bobby and Suzy: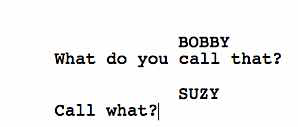 If you press SHIFT+TAB, you get this: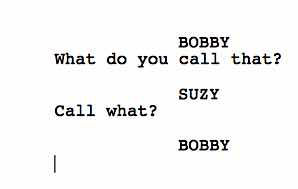 You are all set to type Bobby's dialogue.
ALTERNATIVE BEHAVIOR
Screenwriter has an alternate option that makes both TAB and Shift+TAB insert a Parenthetical direction element instead.
WINDOWS
Go to Tools > Options
Select the Editing tab
Check the "Tab in Dialogue goes to a Parenthetical" option
MACINTOSH
Go to Screenwriter > Preferences
Select the Editing tab
Check the "Tab in Dialogue goes to a Parenthetical" preference