NOTE: The Alpha-test version of Screenwriter 6.7 for 10.15 Catalina and 10.14 Mojave is fully Retina compatible. However, until Screenwriter 6.7 moves into the Beta test stage, we recommend sticking with Screenwriter 6.5 and following the instructions below.
To get better retina performance for script text on your Mac for Movie Magic Screenwriter 6 and 6.5, you MUST follow the steps below:
First of all, check the settings for your Display's resolution scaling:



If you can set that to either of the two settings to the right of "Default" (as above), I believe you will get better Retina performance.
You need to set Screenwriter's Zoom Percentage to 200% (either Fixed Text Size, or as a maximum for "Fit Width"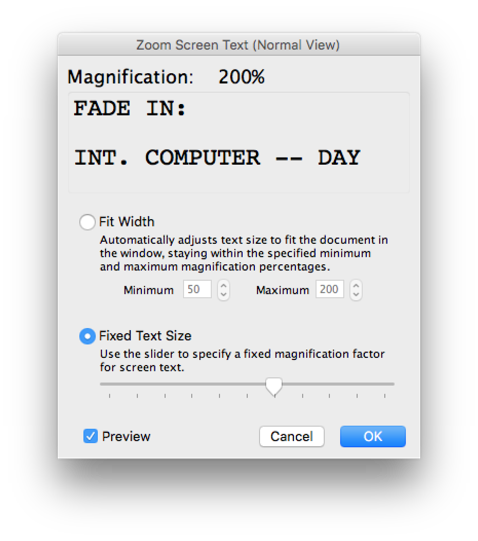 Check that in the Get Info box for the installed Screenwriter 6.5, if there is a checkbox, "Open in Low Resolution", it is NOT checked: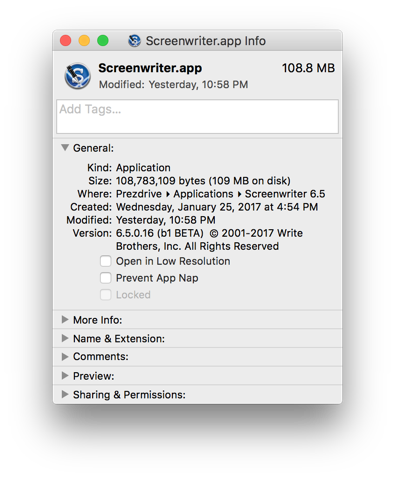 While these settings will not give you TRUE retina performance, they will be pretty good, especially for text.
NOTE: We strongly encourage the use of our Courier MM Screenwriter font for script text. It has been optimized to display at different scaled sizes and will generally look a lot better (and print better) than Courier, Courier New, and Courier Final Draft.