You have multiple screens (e.g. an external monitor) that you sometime connect to your computer / laptop?
When I launch Movie Magic Screenwriter on Windows 10, and the program appears in the task bar, but no document window appears.
While this can sometimes be related to an incorrect printer type (e.g. a "label printer") being connected and selected as the default printer, this more often happens after a major Windows update.
The problem here had to do with having MULTIPLE DISPLAYS.  There's a monitor setting that controls if something should only be on monitor 1 or monitor 2, and you will need to set to "Extend Displays" in order to see the hidden script window, then maximize that script window, then you can select the other settings.
If you go into CONTROL PANEL for Displays, try to select this setting for Multiple Displays: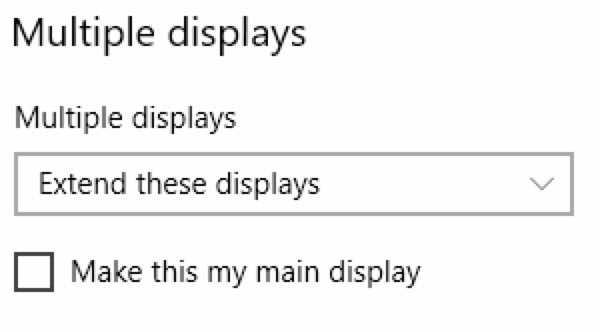 This should restore the Screenwriter document window, which you can now MAXIMIZE.  That should be enough to solve the problem.
If not, see this tutorial:
https://support.microsoft.com/en-us/help/181691/some-programs-are-displayed-off-the-screen