RELATED LINK:  Read this before you update to OSX 10.15
Did you just run Screenwriter or Dramatica on MacOS 10.13.x High Sierra or 10.14.x Mojave, and got an alert: Dramatica Story Expert or Screenwriter "is not optimized for your Mac"?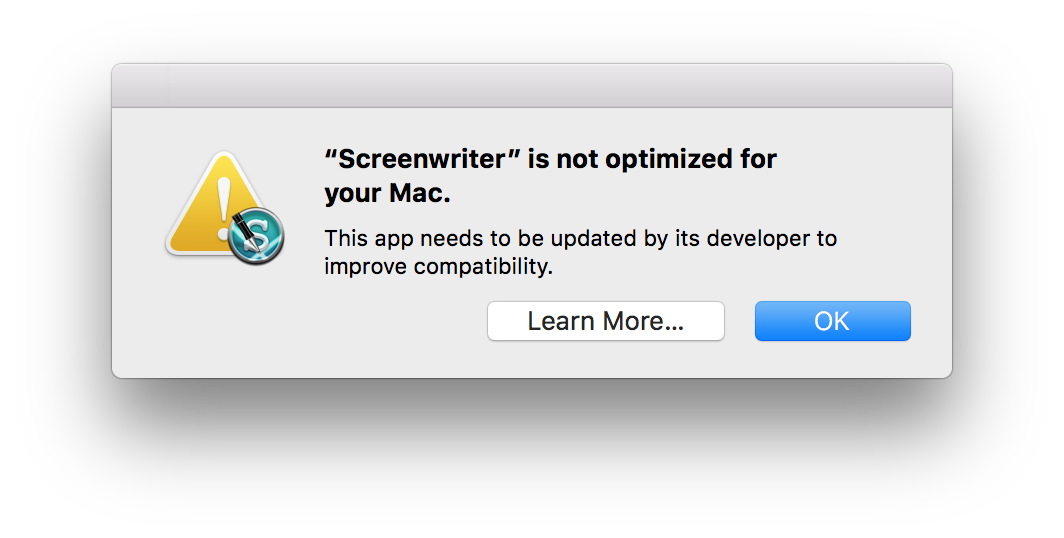 Movie Magic Screenwriter and Dramatica Story Expert are presently 32-bit Carbon applications. Apple is planning to end support for all 32-bit applications when MacOS version 10.15 ships in late September of 2019.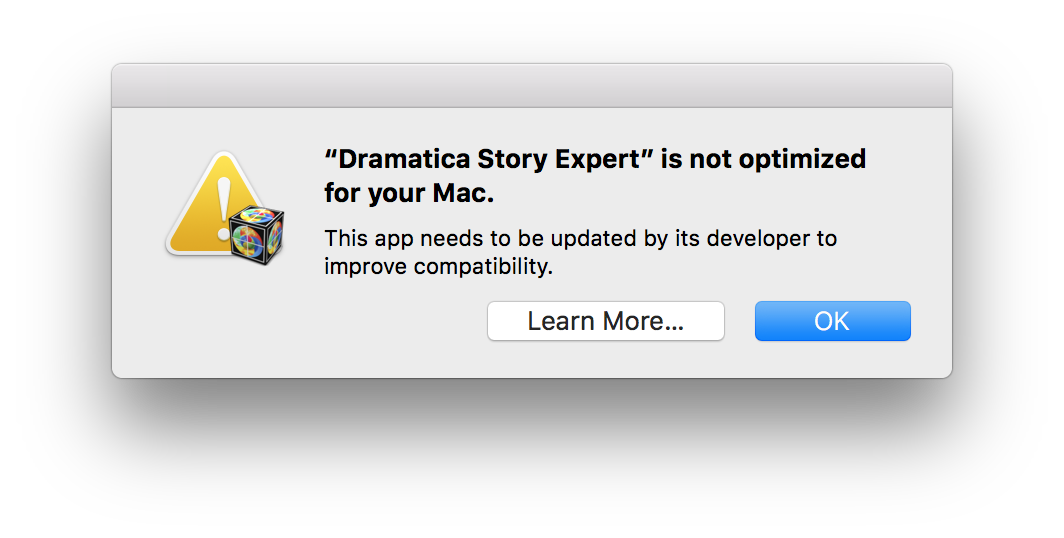 Write Brothers is working diligently so our software will be 64-bit and ready before Apple ends 32-bit support. We hope to have those versions ready in by fall 2019.
However, it is important to understand that you will not lose the ability to run Movie Magic Screenwriter or Dramatica Story Expert while your computer is using any version of MacOS 10.13.x High Sierra or MacOS 10.14.x Mojave, no matter how many updates of High Sierra or Mojave Apple pushes to users.
So there's nothing to worry about until you proactively choose to install the NEXT version of MacOS, version 10.15 (as yet unnamed), which won't be available as fully tested software until at least September (2019).
Users of Screenwriter on High Sierra or Mojave should already have upgraded to Screenwriter 6.5, and be running the latest updated version, 6.5.7.65 (or greater).  
Users of Dramatica Story Expert on High Sierra or Mojave should also migrate to the free update to version 5.3. Run HELP > Check for Update on Screenwriter and DRAMATIC STORY EXPERT > Check for Update to see if you have the latest versions of our software.
NOTE that Apple's alert is only shown the first time you launch a 32-bit app on High Sierra 10.13.x or on Mojave 10.14.x.
What If I Continue to Use MacOS 10.14 Mojave, 10.13 High Sierra, 10.12 Sierra, 10.11 El Capitan, or 10.10 Yosemite?
So long as you continue to use MacOS 10.10 through 10.14 your 32-bit software will continue to work as it does now.  You cannot be affected by the phasing out of 32-bit applications unless and until you upgrade your Mac to run MacOS 10.15 which hasn't even been announced and which won't be expected until the September 2019.
Will there be other benefits to a 64-bit version of Movie Magic Screenwriter / Dramatica Story Expert?
Yes.  All 64-bit applications are fully Retina enabled (higher resolution graphics), and are generally  faster and capable of using more memory.
RELATED LINK:  Read this before you update to OSX 10.15