BREAKING: New VirtualBox 6.1.16 released (October 16, 2020).
What's a virtual machine and how will it help me run Dramatica Story Expert on Catalina?
A 64-bit version of Dramatica Story Expert capable of running on MacOS 10.15 Catalina is not available yet (there IS a 64-bit version of Screenwriter 6.7 for Catalina, Big Sur, Monterey, Ventura and Sonoma). However, there is a free method where you can run your existing 32-bit Dramatica Story Expert ON Catalina: inside a "virtual machine". Note this will work ONLY on an Intel Mac, not on Apple Silicon (IE M1/M2/M3)
You do this by downloading and installing the FREE program VirtualBox, made by Oracle (the third largest software company in the world). These instructions will guide you on how to download, install, and activate your products WHILE you are running on MacOS 10.15 Catalina.
IMPORTANT NOTE: This is a high-quality temporary solution to be used until we have a 64-bit Catalina-compatible update. You will be downloading and configuring VirtualBox, a free third-party application. We do not provide tech support for VirtualBox usage beyond these installation instructions. While the steps below are fairly easy for the non-technical Mac user to follow, if you do not feel comfortable installing and configuring VirtualBox, please use one of the other temporary solutions described in this FAQ:
https://techsupport.screenplay.com/hc/en-us/articles/360034841271
Some Basic Terminology:
Virtual Machine ("VM"): Software that allow you to run an entire version of MacOS inside its own window -- it's like having a separate Mac that you can start and stop -- but one that IS CAPABLE of running our existing 32-bit version of Dramatica Story Expert.
VirtualBox: A free virtual machine program available to download from Oracle, a major database company.
Host Machine: That's YOUR Mac, running 10.15.x Catalina.
Guest Machine: A pre-installed copy of MacOS 10.14 Mojave, complete with a pre-installed (but not yet activated) copy of Dramatica Story Expert 5.3.1.
Text (below) in Bold Red: these are NOT links, but emphasize file/folder names.
INSTALLATION & ACTIVATION: You will only follow steps 1 through 10 ONCE, to install and activate your software. We suggest you either print this FAQ or make sure it's available so you can follow each step.
STEP 1: DOWNLOAD THE PRE-CONFIGURED GUEST MACHINE (one HUGE file, 11.21 GB)
DISK SPACE REQUIRED: Even though the download is only 11.21 GB, you will need at least 27 GB of free disk space for the Guest Machine. This is a HUGE download, and will likely take at least two hours to download on a fast internet connection. Your download time might be longer, depending on the speed of your Internet connection.
Go to this page: https://we.tl/t-XSCPvTWV1w
and download the file: VirtualBox Mojave Installer.dmg by pressing the Download button.
You may be asked to "allow downloads". Click "Allow":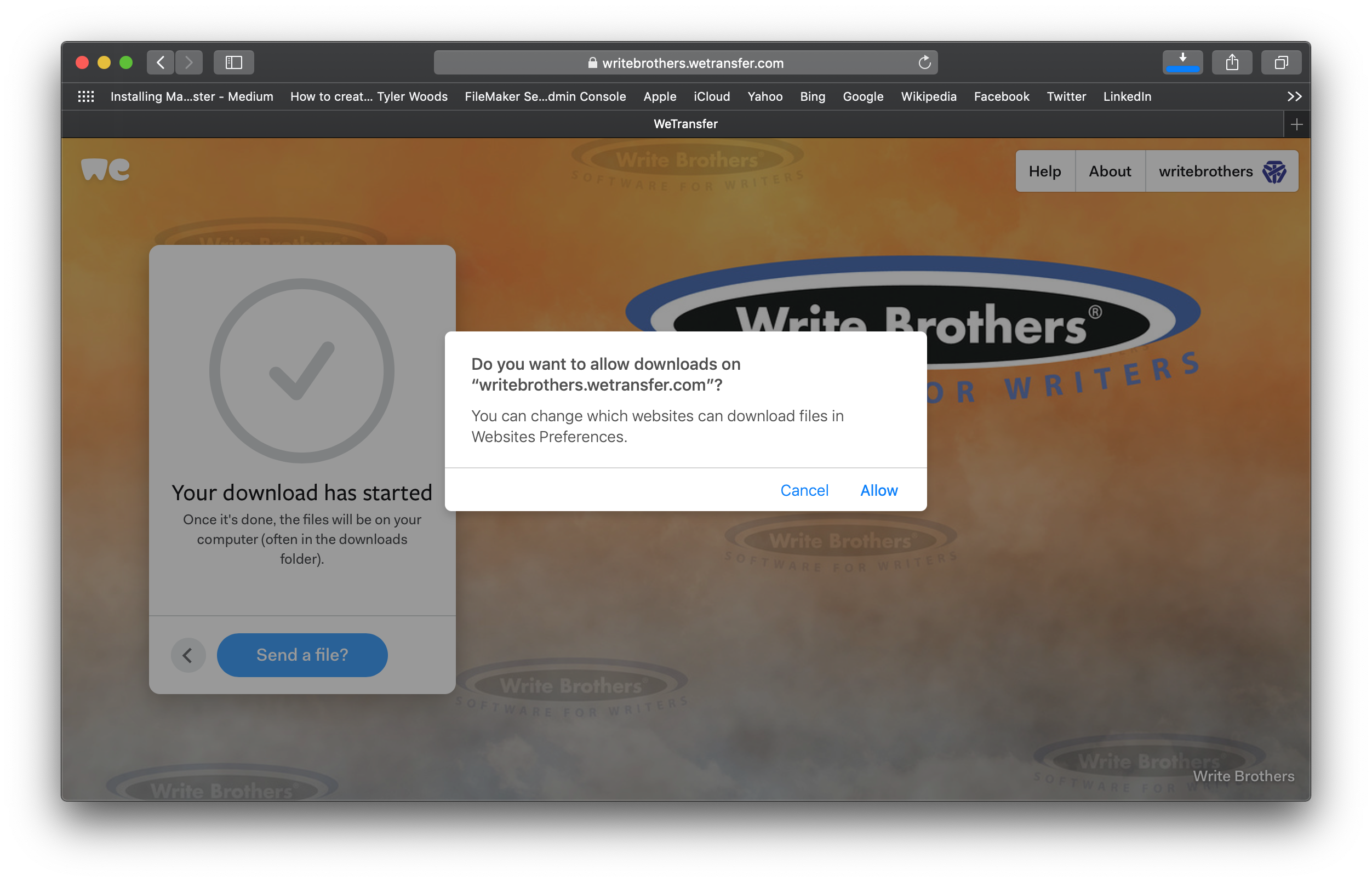 STEP 2: CREATE NEW FOLDER "My Virtual Machines" IN YOUR HOME FOLDER
Go into the Finder. Select GO > Home from the menu at the top. Your Home folder is usually the logged-in user name.
Select the FILE > New Folder menu. Rename the newly-created folder from "untitled folder" to "My Virtual Machines".
STEP 3: OPEN DOWNLOADED DMG, COPY "WB VirtualBox VM" TO THE NEW FOLDER.
Locate the huge file you downloaded, "VirtualBox Mojave Installer.dmg". It should be in your Downloads folder. Double-Click that file to mount and open. (NOTE: it may take several minutes to completely VERIFY the disk image as it opens -- be patient!)
In the mounted DMG window, you will see one folder, "WB VirtualBox VM":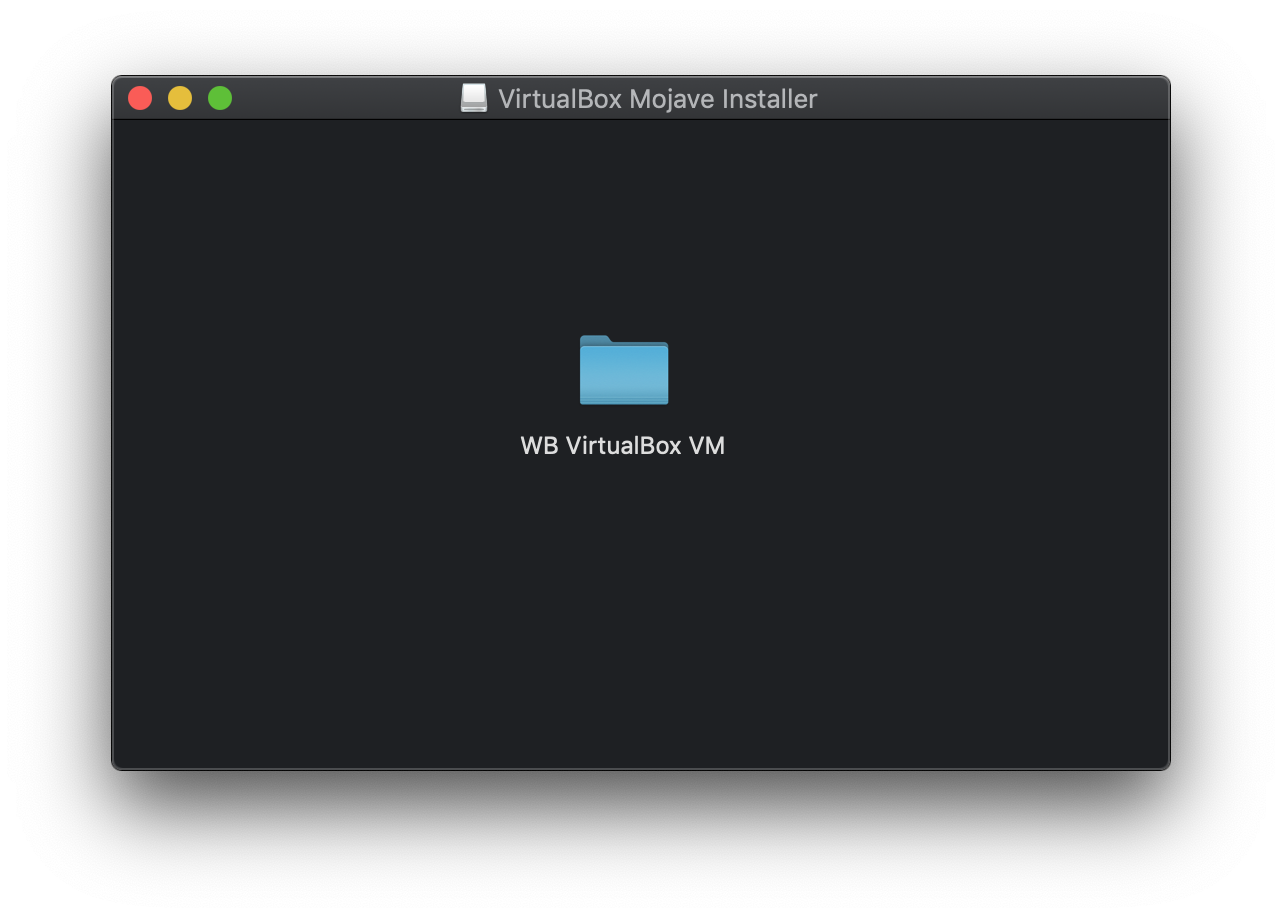 Drag that folder to the "My Virtual Machines" folder you just created in Step 2. Don't drag it into any other folder that is already in your Home folder -- especially NOT into "Documents" or "Desktop". This will begin a copy process that will TAKE AROUND 10-15 MINUTES.
Once the copy is completed, you may EJECT the VirtualBox Mojave Installer.dmg by selecting that window and doing the FINDER > Eject menu (CMD+E).
Once ejected, locate and delete VirtualBox Mojave Installer.dmg from your Downloads folder by dragging it to the Trash. Make sure to Empty your Trash (Finder > Empty Trash).
STEP 4: DOWNLOAD THE VIRTUALBOX SOFTWARE (SMALL, 129 MB)
Click on this link: Download VirtualBox for MacOS 10.15 Catalina
Step 5: DOWNLOAD THE VIRTUALBOX EXTENSION PACK (TINY, 11 MB)
Click on this link: Download Extension Pack
STEP 6: INSTALL VIRTUALBOX
Locate the file "VirtualBox-6.1.16-140961-OSX.dmg" in your Downloads folder. Double-Click to open the installer .dmg. Once that opens, double-click the VirtualBox.pkg installer: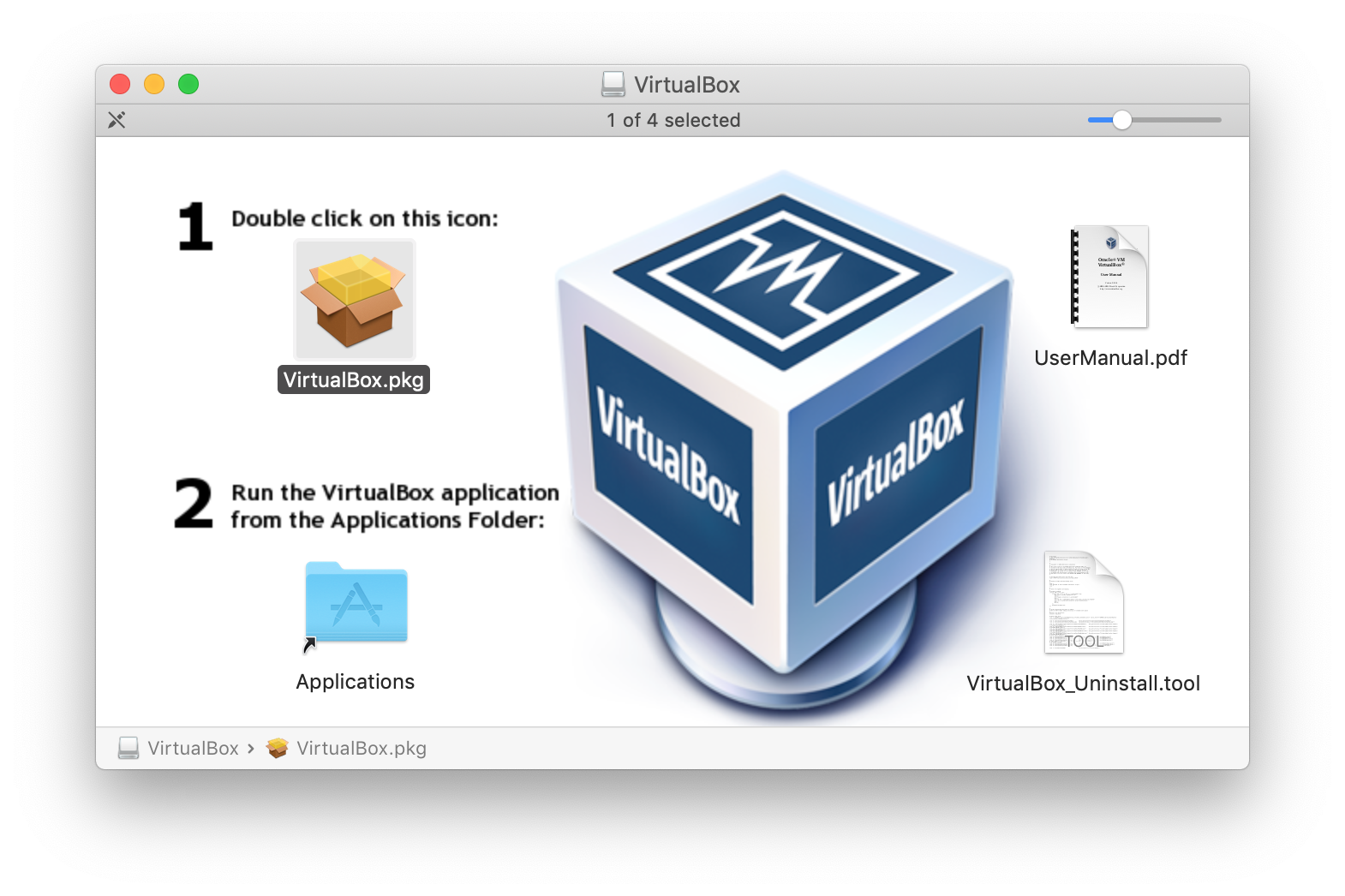 STEP 6A: ALLOW ORACLE'S SYSTEM SOFTWARE TO LOAD:
You may have been asked during the install step (step #6, above) to "allow" system software from Oracle to install. Often, Catalina mysteriously omits this step. So more often than not, you'll need to go into your System Preferences and look at the Security & Privacy pane. At the bottom of the GENERAL tab, you should see a button that says "Allow", with the text "System software from developer "Oracle America, Inc." was blocked from loading:
UNLOCK that pane, and press the Allow button. You may proceed to Step #7.
STEP #6B: IF YOU DO NOT SEE THAT ALLOW BUTTON
If the Allow button never appeared for you, when it comes time to launch the Virtual machine (Step #10, below), you MAY get an error. The solution is to CLOSE the Security & Privacy Preferences window, then REINSTALL VirtualBox (Step #6, above), then bring up the Security & Privacy Preferences and again look at the GENERAL tab -- the button might now appear there. This re-install/check-for-the-allow-button procedure might need to be repeated up to two more times. Make sure to close the Preferences window when re-installing.
STEP 7: INSTALL THE EXTENSIONS PACK
Locate and double-click the file "Oracle_VM_VirtualBox_Extension_Pack-6.1.16.vbox-extpack" in your Downloads folder. This will launch VirtualBox (NOTE: you MAY be asked to make a security exception for VirtualBox, by opening your Security & Privacy Preferences pane).
Once VirtualBox launches, You will be asked to install the extension pack (version shown in screenshot below may be different -- that's OK):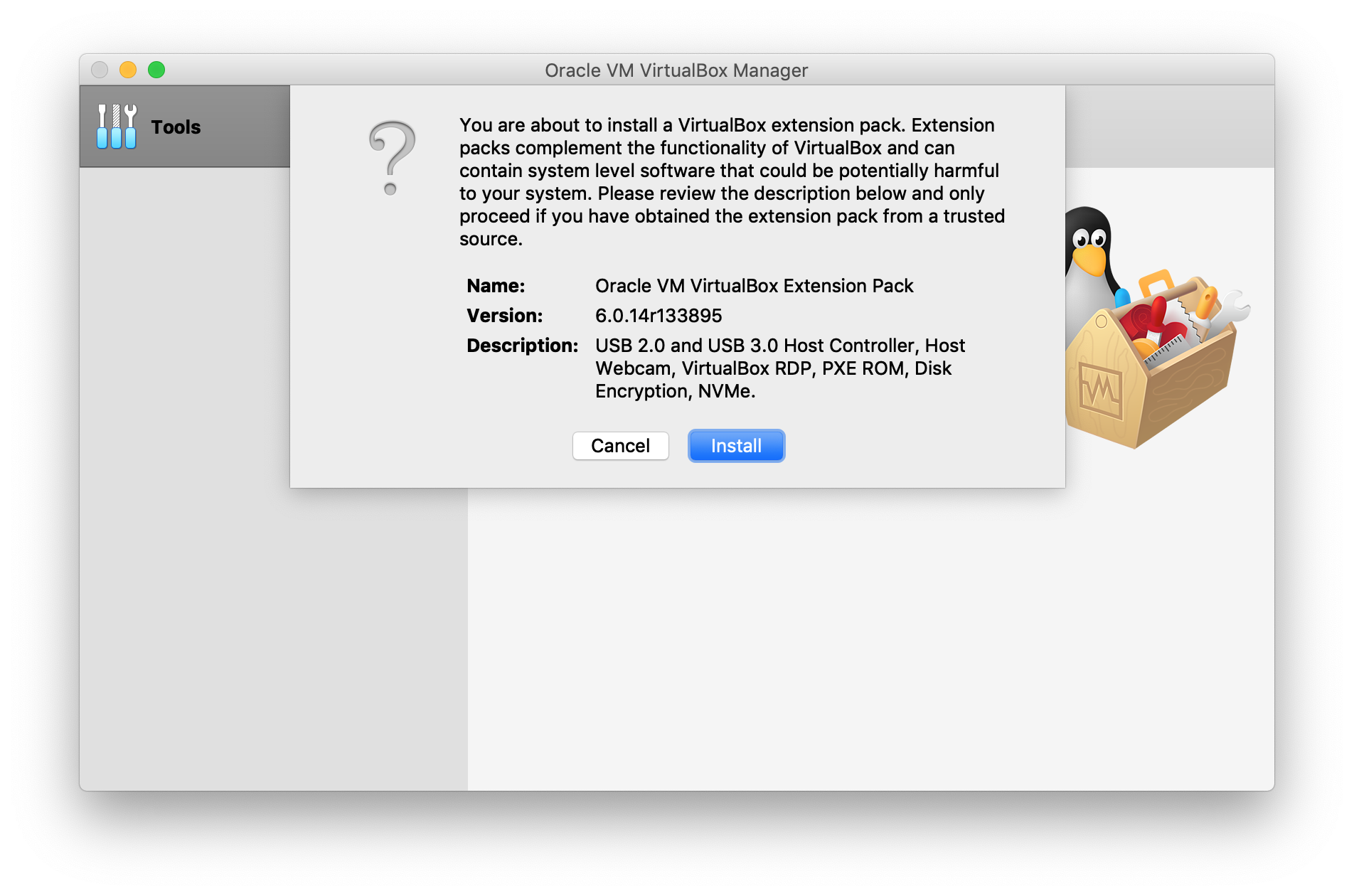 Press the INSTALL button. You will be asked to provide your machine's password to complete the installation.


STEP 8: ADD THE VIRTUAL MACHINE YOU DOWNLOADED AND COPIED
From the VirtualBox MACHINE menu, select ADD. A file choosing window will be displayed. Locate the folder "WB VirtualBox VM" you drag copied in Step 2. Open that folder. You will see a file, "Virtual_Mojave_WB_v2.vbox". Select that file. This will add it to the left side of the Oracle VM VirtualBox Manager.
STEP 9: IMPORTANT: RUN AUTOMATIC CONFIGURATION COMMAND
Switch over to the Finder again (don't quit out of VirtualBox). In the folder "WB VirtualBox VM", you'll see a file, "Double-Click me AFTER installing files.command". DESPITE THE FILENAME, DON'T DOUBLE-CLICK IT -- INSTEAD, RIGHT-CLICK (or Control-Click) on the file and select OPEN. You'll see an alarming-sounding alert that looks like this:
Press the OPEN button. If you don't see the OPEN button, that means you double-clicked the the file instead of right-clicking (control-clicking) and selecting Open from the context menu.
After you press OPEN, you'll see a window quickly appear and disappear -- and that's it for this step.
STEP 10: START YOUR VIRTUAL MACHINE
In your Applications folder, you'll see the VirtualBox Manager application. Double-click it to start.
STEP 10A: On the left side of the VirtualBox Manager, select "Virtual_Mojave_WB_v2", and click on the green START arrow.
IF YOU GET AN ERROR "Failed to open a session for the virtual machine", OR "Kernel Driver Not Installed", this means the "Allow" button described in step #6A was never pressed. Quit the VirtualBox software and go back to Steps #6A and #6B, and follow those instructions. Once you've been able to press the "Allow" button, come back to Step #10 and try again.
You will see a whole lot of computerish text being displayed in a window for about a minute. THEN MacOS Mojave will launch in that window! If you see the Mojave login window, please SKIP the next section and go down to STEP 10B "Enter the password".
IF LOADING FREEZES OR HANGS: On rare occasions (and only the first time before successful launch) the computerish text may stop scrolling for a period longer than a minute, which indicates a problem. This might happen with one of the newest Macs, and is simple to resolve:
First, click on the close button for the frozen Virtual Machine, and confirm it's OK to shutdown/stop the VM. Next, in the VirtualBox Manager, press the SETTINGS icon:

Look at the bottom of the BASIC settings on the General Tab:

See that menu that says "Version"? Click on it, and select "Mac OS X (64-bit)" near the top of the menu: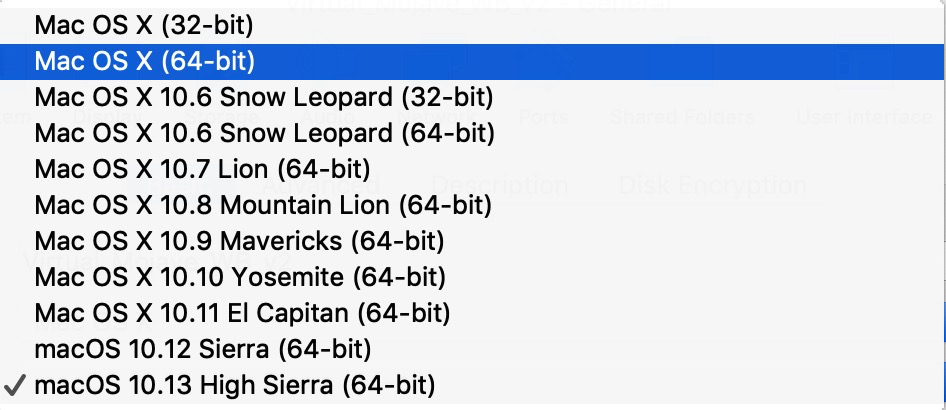 Now go BACK UP to STEP 10A.
STEP 10B: ENTER the password: "mypassword" (no spaces). Not intended to be a secure password, but you can always change it later in System Preferences > Users & Groups.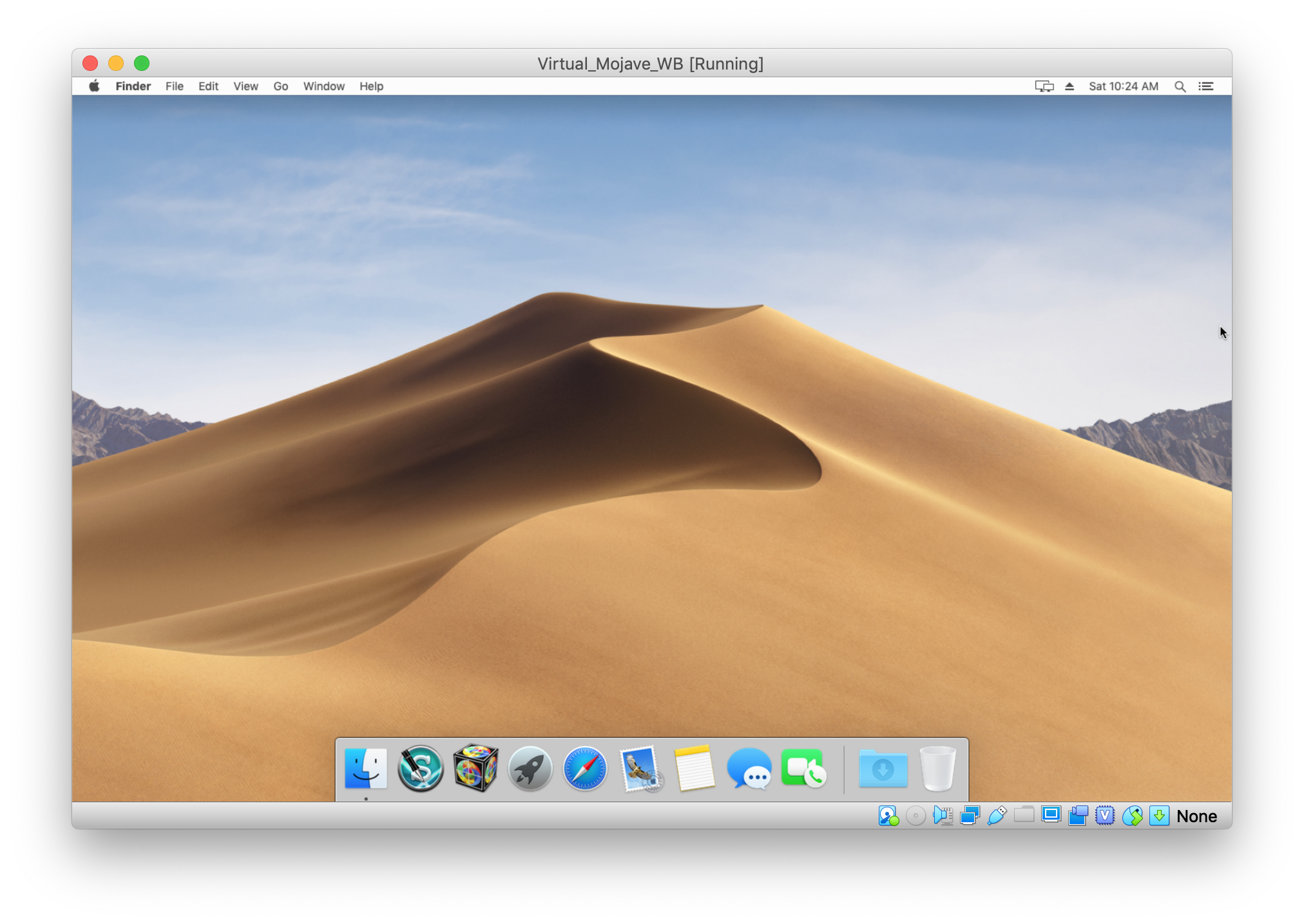 STEP 11: ACTIVATE YOUR DRAMATICA STORY EXPERT
We have pre-installed both Movie Magic Screenwriter 6.5 and Dramatica Story Expert, and placed them in the left side of the Dock at the bottom of the screen.
Click on your desired application icon (Screenwriter 6.5 or Dramatica) in the Dock. You may see an alert that says, "Updating License Storage". This is a normal, one time operation that takes around a minute. Also, the FIRST TIME you launch Screenwriter or Dramatica, it MIGHT take a full minute to bring up the activation window.
Now, you will be asked to enter your Screenwriter or Dramatica Story Expert serial number.
NOTE: If this is the first time activating Screenwriter 6.5 or Dramatica Story Expert 5.3, you need to create a NEW activation management account. This account has nothing to do with the Screenplay.com account or accounts associated with earlier versions of Screenwriter or Dramatica. This is an account for controlling the activations of Screenwriter 6.5 (or Mac Dramatica Story Expert 5.3). You may use the same email and password if you want, but this account exclusively is for managing software activations. The email address you use to create the account becomes the permanent Account ID, so if this is a company account you may want to have the person managing the software set up the account with their company email address. (The contact email address may be changed at a later date, but not the Account ID.)
After logging in, go through the steps to activate the software. Once you do that, there are still two other steps we recommend taking.
IF YOU RECEIVE AN "ERROR 105" MESSAGE during activation, you may correct that by following the steps in this FAQ before attempting to activate again:
LINK: Error 105 during Activation and Launch using VirtualBox on Catalina
STEP 12: INCREASE THE SIZE OF THE VIRTUAL MACHINE SCREEN
If your Virtual Machine screen is too small, you may easily increase the size by choosing a higher magnification. There's a row of tiny icons in the bottom right of the Virtual Machine's window. One of those icons looks like a computer screen. Click on that icon, and you'll get a menu with options to SCALE the display.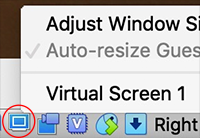 Select "Virtual Screen" and another popup menu comes up. Try 125%, 150% or 200%.


STEP 13: CREATE A SHARED FOLDER TO GET FILES TO GO BACK AND FORTH BETWEEN THE GUEST VIRTUAL MACHINE AND CATALINA?
The easiest way would be if you have a free DropBox account. Another method would be setting up a folder to do File Sharing on your Catalina machine. Here are the step-by-step instructions to create the shared folder.
LINK: Creating a Shared folder between your Mac running Catalina and a Virtual Machine
Alternatively, you can share documents using Dropbox.
LINK: Adding Dropbox to VirtualBox workaround for Mac Screenwriter and Dramatica Story Expert
SOME NOTES:
COMMAND-Q ("Quit") key was sometimes usurped by earlier versions of VirtualBox. We've tried to prevent this, but if you go to Quit Screenwriter / Dramatica by pressing COMMAND-Q, then earlier versions of the Virtual Machine itself will ask if you want to "shut down" or "Save State". Typically, that's not what you wanted to do. Instead, to QUIT one of our programs, just select the FILE > Quit menu item using your mouse.
OTHER SETUP YOU MIGHT WANT TO DO:
CHANGE THE HOST KEY COMBINATION PREFERENCE
Technically, you don't NEED the Host Key Combination shortcut, and our configuration should have set it to "None". We do that because VirtualBox comes with the COMMAND KEY pre-defined as the Host Key Combination. That's INSANE -- if we had not changed it to "None", then all of your COMMAND KEY shortcuts in Screenwriter / Dramatica would simply NOT WORK.
Still, if you have some familiarity with VirtualBox, you may still want to use that special key, by defining to another key other than "COMMAND":
At the top of the VirtualBox window, you'll see the Preferences ICON. Click on that, and the preferences window will open. Select the INPUT tab (keyboard icon), then the Virtual Machine tab: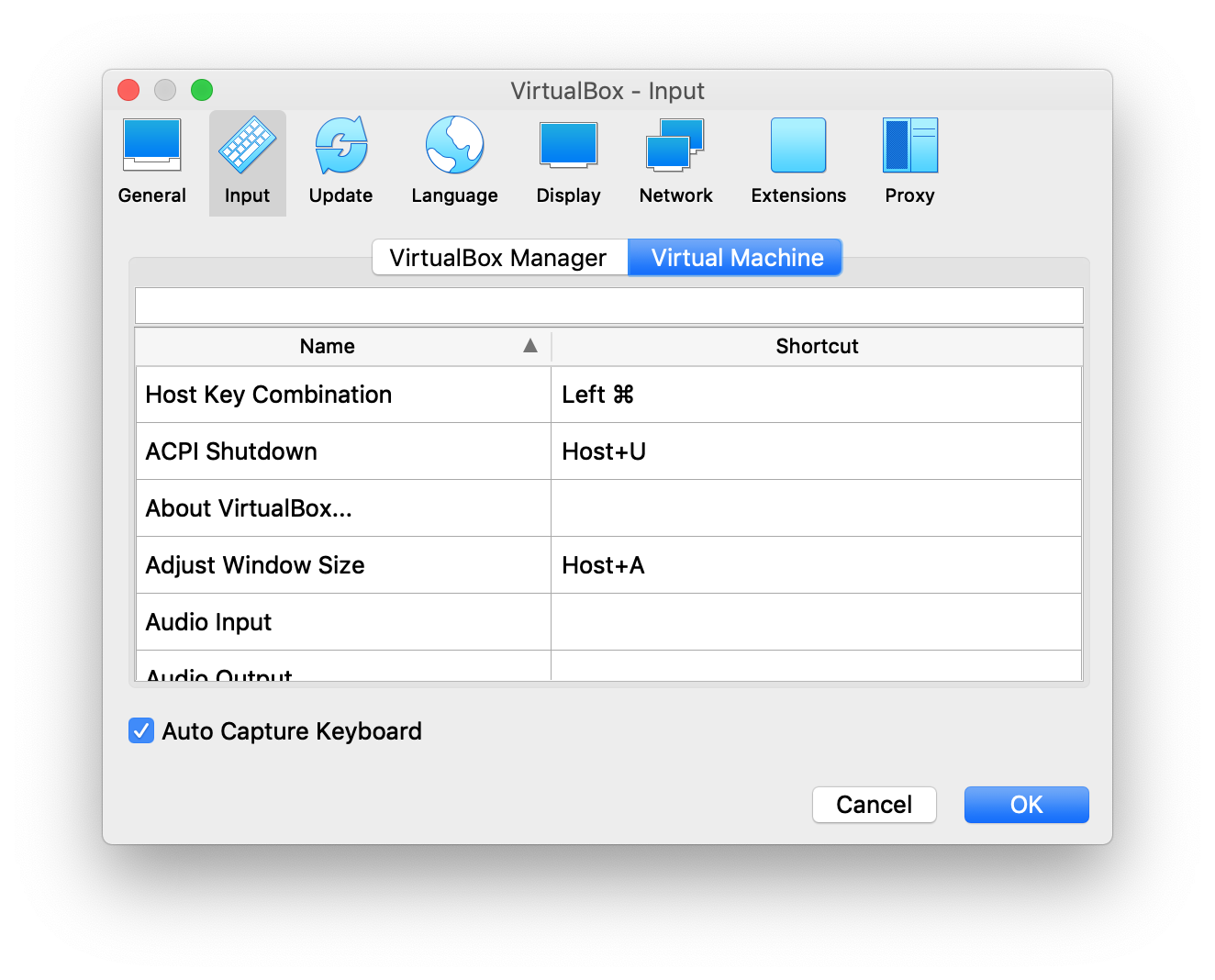 The first line will say "Host Key Combination", and the default shortcut is Left command key, but our configuration will (hopefully) have changed it to "None". Click in that field and then press your RIGHT option / alt key:

Press OK.