These instructions are only for Mac Screenwriter 6.5 and 6.7 Alpha
The Activate & Register Screenwriter app allows you to view your activations and registration information. Run the app, or from Screenwriter's Help menu, select "Activations and Registration...":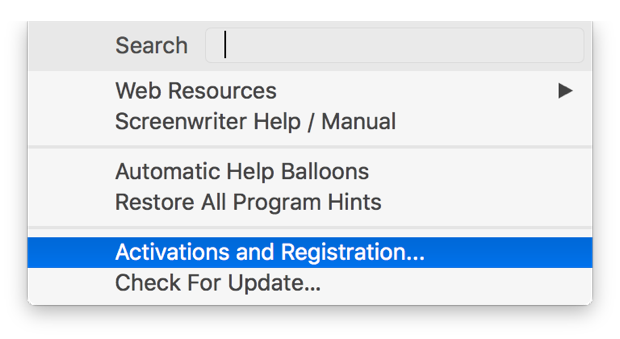 Just enter the same email you used when you activated the serial number, and the password (or press the "Forgot your password?" button):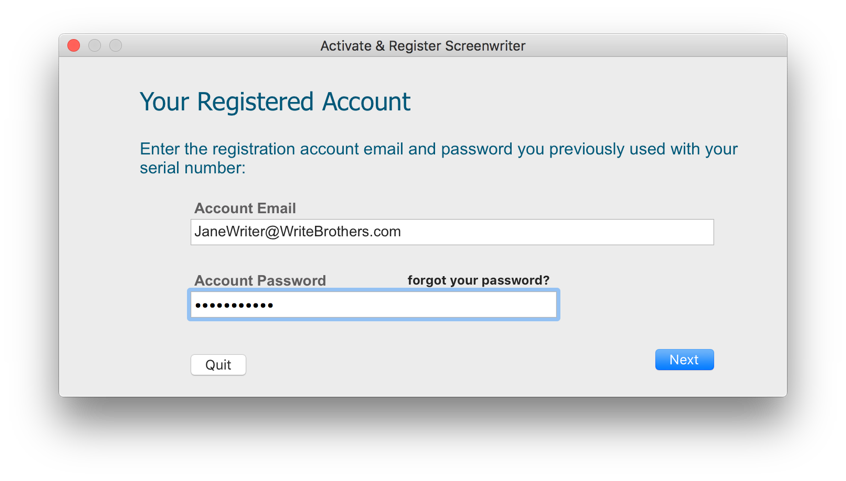 This nice, detailed window will be displayed that lets you edit your registration details, change your account email, request a password change email, and deactivate any of your activations for any of the serial numbers associated with your account:
If you have multiple serial numbers, you can select each serial number to see the list of machines that have activations. Each serial number displays its count of available activations.
The activation that has an asterisk after the name is the activation located on the computer you are presently running on.
Pressing the Deactivate button next to a computer name will set that machine's copy of Screenwriter 6.5 for deactivation. If you are deactivating the copy of Screenwriter on your present machine, that copy will be immediately deactivated. If Screenwriter is running on your machine, deactivation happens as soon as you quit Screenwriter. If you are deactivating another machine, deactivation happens the next time that copy of Screenwriter is launched.
Even if you cannot access the machine you are deactivating, that's OK -- your activation count is immediately credited. There is no need to do anything on any machine you wish to deactivate: even if that machine has had its hard disk wiped (reformatted), or the machine was stolen, or sold, or is broken and won't even start, you are still credited with the deactivation.
You may change the account email used to register your software. You may not change your Contact Name. If there's a mistake in the Contact Name, please submit a ticket to Technical Support and we will change it for you.